The 1841 tithe map and schedules shows Miskin to be a hamlet located two miles south of Llantrisant beside the Ely River. It consisted of New Mill farmhouse, a cottage and barn, and a cottage and smithy, all of which belonged to New Mill Farm. Further, if we compare the map with the Ordnance Survey map published in 1875 we see that the tithe map also shows a mill and a cottage on the site of the present Miskin Arms. The census of 1841 shows a total population of 31 in five households, including a farmer, miller, shopkeeper, dressmaker shoemaker and labourer. We also establish that the hamlet was known as 'New Mill'.
By the 1861 census New Mill had become a village. Its population had increased to 83 in 17 households. In addition to the farmer, miller, shoemaker and labourer, we now find 17 iron ore miners. Clearly, the opening of Bute and Mwyndy iron ore works during the 1850s had had a dramatic impact on New Mill's development and it continued to do so. Iron ore mines were worked as open cast quarries during the industry's early history.
Right: 1874/1876 map of Miskin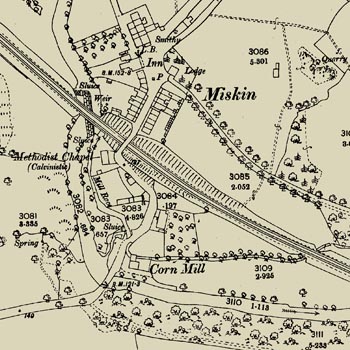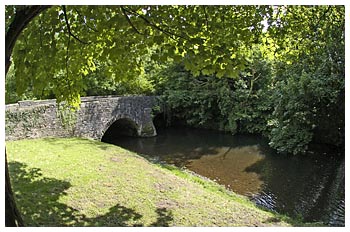 However by the late 1860s shafts were being sunk changing the nature of the workforce from quarrymen and labourers to skilled miners. Several ironstone mines are shown dotted around to the north of the village on the 1875 Ordnance Survey map. A number of miners were recruited from Cornwall, many of them victims of the collapse of the Cornish copper mining industry in 1866. The 1871 census shows that over half of New Mill's iron ore miners had emigrated from that county increasing the village's population to 144.
Left: The old bridge Miskin near the mill race