Known locally as "The Chainworks", Brown Lenox and Co. Ltd enjoyed a long association with Pontypridd and played a significant part in the town's history. The company's origins date back to the beginning of the nineteenth century when Samuel Brown, then a lieutenant in the Royal Navy, designed and patented the wrought iron chain that was to replace the hempen rope cables that were then used to hold a ship's anchor. Unable to finance the project to completion he enlisted the aid of relatives and friends. This led to the formation in 1806 of a partnership between Brown and his cousin, Mr Samuel Lenox that was, in effect, the beginning of the Brown Lenox company.
To demonstrate the superiority of iron chains, Brown installed iron rigging and marine cables on a vessel called the Penelope and sailed to the West Indies. The Admiralty were so impressed on his return in 1808 that they immediately ordered four vessels of war to be fitted with chain cables. It was to mark the beginnings of an unbroken series of annual contracts that lasted for over a century between 1808 and 1916. Unsurprisingly, larger works were constructed in 1812 at Millwall on the river Thames to meet the demand. However the manufacture of chains continued to increase at such a rate that an additional site was required.
Right: Chain links fron the SS Mauretania before testing (left) and after testing (right) under a load of 370 tons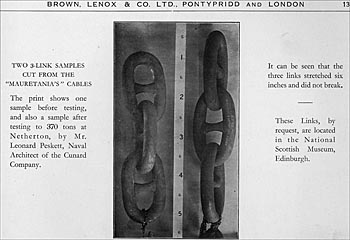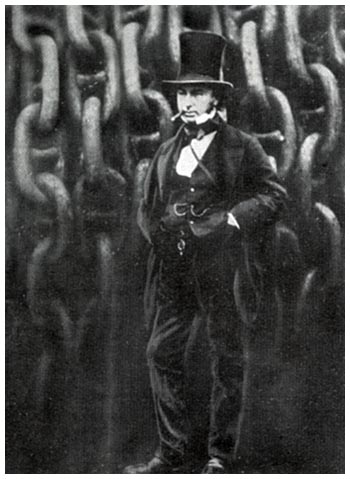 Isambard Kingdom Brunell standing alongside chains made by Brown Lenox for the SS Great Eastern
Pontypridd was chosen as the site of the chainworks because of the proximity to supplies of iron and coal. The works, constructed in 1816, were located at Ynysangharad beside the Glamorgan Canal. Two canal basins were constructed, one for the receipt of fuel and iron and the other for the despatch of the finished product. The 20 feet difference between both canal basins was responsible for a large fast moving volume of water sufficient enough to provide all the power required through water wheels and then turbines.

The manufacture of chain cables was facilitated by the introduction of a machine for bending and scarfing links in preparation for making them into chains. This machine was invented Samuel Brown with the assistance of Philip Thomas, the chainworks first manager. As the coal industry developed and the demand for winding and haulage engines increased, the company broadened its activities and produced different kinds of equipment. The company continued to develop rapidly and further extensions were made including the introduction of steam hammers for forging heavy anchors. During the nineteenth century the censuses show how the people of the district depended almost entirely on the works. Indeed the Ordnance Survey map of 1875 and the 1881 census show the row of houses on the opposite side of the canal to the works to be known as Chainworkers Row.