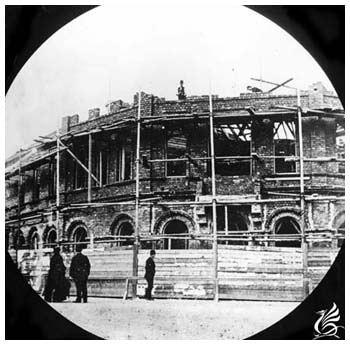 The first Aberdare Constitutional Club was founded at premises in Commercial Place (Victoria Square) in 1884. In 1885 the Club moved to larger premises at 28 Canon Street, but as the club continued to prosper attempts were made to secure a new site for development.
In 1888 Lord Merthyr purchased the land on which the Aberdare Constitutional Club was to be erected. The plans of the building were approved and work had been completed by July 1893. The Constitutional Club contained 3 shops, a bar and the Constitutional Hall on the first floor; on the second floor a billiards room, card room, reading room, library and committee room; and the third floor contained the kitchens with a lift to the ground floor.
The Club was officially opened on 15th March 1894, when the opening ceremony was performed by J M Maclean, the Conservative candidate for Cardiff.